How to Use Grass Pellet Machine to Make Grass Pellets for Feed?
As we all know, grass is the food of some herbivores, like cattle/cow, sheep/goat, horses, rabbit and so on. And grass pellets are processed by feed pellet machine through several steps. Compared to pulverized fodder, grass pellets have many outstanding advantages for animals, including


Grass Pellets for Livestock Poultry
Can't be affected by seasons, feed conversion rate is high;
Small size for easy feeding, storage and transportation;
Grass pellets producing costs less while makes more profits;
Enhanced palatability and high nutritional value allow full digestion of livestock and poultry and improve absorption and utilization of feed;
In breeding industry, farmers are most concerned about the benefit of breeding and breeding costs. In order to improve efficiency, reduce costs, pelleted feed has been proved an effective method worth practicing. So, how to make grass pellets for feed? And, how to choose a cost-effective grass pellet making machine? Here, GEMCO offers some for your reference, if there are any questions, please contact us directly to get detailed technical information!
How to Make Grass Pellets for Feed?
Making grass pellets relies on the animal feed pellet machine. Before starting it, you should choose a proper grass pellet mill according to the actual needs. The pellet mill can be divided into Flat Die Pellet Mill and Ring Die Feed Machine, both of the feed pellet machines can process grass. (Read more: Poultry Feed Manufacturing Plant Cost >>)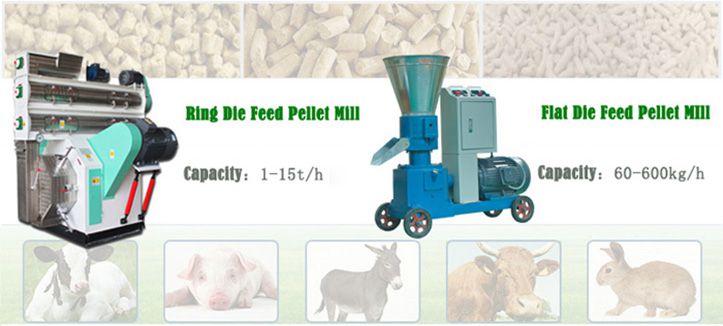 Grass Pellet Machine for Sales
The grass pellet mill uses high temperature and high pressure to press the grass. Before grass pelletizing process, the raw materials should be ground into small pieces by crushing machine, like hammer mill. This process is to ensure convenient and easy pelletizing. Then, the pellet mill roller presses the raw materials into the die hole, and going through the die hole, the materials come out from the other side of the die. Then the cutter under the die will cut the rod into pellets with certain length. After the cooling step by pellet cooler, the grass pellets production is finished.


Grass Pellets Feed Making
Please Note: Grass is also suitable to make biomass pellets for heating on domestic or commercial level.
Project Report: 1.5T/H Elephant Grass Pellet Processing Plant in Philippine
Difficult Point of Making Grass Pellet as Animal Feed
Actually, the difficult point to make feed pellets from grass is how to control the water content of raw materials. Based on our technical identification, the BEST water content of grass pellet making is as below:
| Grass | Optimal Water Content |
| --- | --- |
| leguminous Forage Grass | 14% ~ 16% |
| Gramineous Forage Grass | 13% ~ 15% |
If you are not sure whether your grass can make pellet or not, you can send the raw materials to us for test. We have professional technical team to response to customers' request! Please just contact us for more details!

Grass Pellet Making Process by Small Grass Pellet Machine
How to Make Grass Pellets for Feed by Pellet Mill - Buy High Quality Grass Pellet Machine for Feed Making: HOT Sale grass pellet mill machine offered by feed pellet mill manufacturer or supplier, Guide on process of grass feed pellet production and How to start grass pellet feed making business with limited cost in Tanzania, Egypt, Morocco, Ghana, South Korea, etc.
How to Choose a Suitable Grass Pellet Mill?
The grass is seen throughout the year which means it can be easily accessed at any time of the year. Grass pellet mill is the machine that is used to make grass pellets. If you are confused about how to choose a suitable grass pellet mill then here is the handy guide that will help you make the right decision.

Small Grass Pellet Mill Plant
What is Your Output Demand?
Determine your output demand. Are you buying it to feed your farm animals or want to sell grass pellets on the commercial level? Small pellet mills will produce a lesser amount of grass pellets as compared to the large feed pellet machine. So, choose the one that meets your output demands. (Read more: Customized Small Chicken Feed Pellet Mill Plant to Tanzania >>)
Is the Cost According to Your Budget Plan?
The cost of grass pellet machines matters a lot. No matter if you are buying a small-sized or large-sized grass pellet mill, keep in mind that the product you buy must have a long-serving life and its power needs (electricity, fuel) are according to the power availability in your area. Do not leave a suitable grass pellet mill behind just because it costs a few bucks more than you had planned. It is a one-time investment so make the decision wisely. (Read more: Animal Feed Pellet Mill Price >>)
Will You Get After-Sale Services?
Another important thing to consider is whether the company provides after-sale services or not. If they provide installation, repair, and other similar services then you can save a lot of needless cost by getting help for free.
Is the Manufacturing Company Reputable?
A good quality machine will determine the quality of the end product that you will receive from the machine. If the machine's quality is high, chances are you will get a higher output. Do your research before making a purchase.
Make sure the company has good reviews and its old customers are satisfied with the quality of their product. You can check the grass pellet quality by testing the machine before buying it.

What is the Price of GEMCO Grass Feed Pellet Making Machine?
GEMCO pellet mill has good reputation at home and abroad due to its excellent performance. It can produce pellets without adding water and drying at the natural temperature rise of about 70℃. The grass pellets made by GEMCO grass pellet machine has good internal curing deep penetration, smooth surface, high hardness, adjustable particle size. (Read more: GEMCO Pellet Mill Price Decrease >>)


Grass Feed Pellet Making Machine Supplier
We have been in the pellets manufacturing industry for more than two decades. We have higher technology and rich experience in making grass pellets for feed. If you produce grass pellets feed for sale, it can help you to make profits at a short term. If you produce grass pellets feed for self-use, it will help you to prepare enough food for the animals. We are definitely the BEST manufacturer and supplier for your grass pellet making machine.
Our pellet mill is easy to operate and long-term service life. Most importantly, our grass pellet mill is quoted at EXW price. For detail price list and machine parameters, please fill the following hart to contact with us, we will reply on you as soon as possible!
Get In Touch
We receive enquiries in
English, Español (Spanish), Русский язык (Russian), Français (French) and العربية (Arabic)
. Our professional team will reply to you within one business day. Please feel FREE to contact us!