Biomass Pellet Plant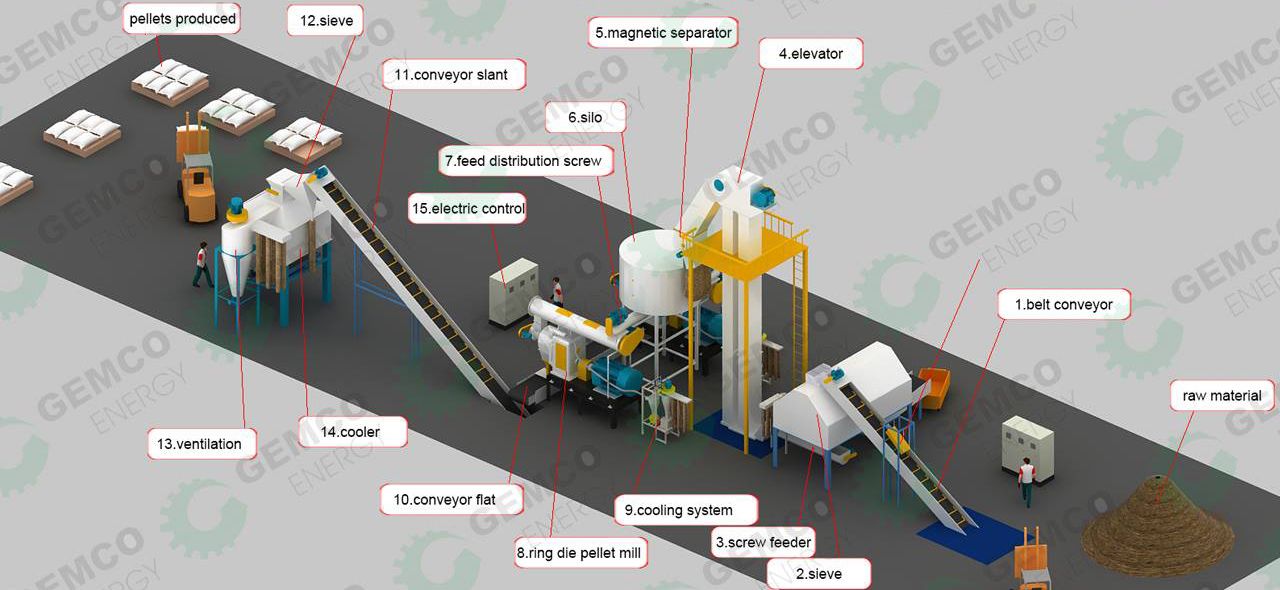 Complete Biomass Pellet Mill Factory Design
Biomass pellet plant is the complete pellet production line, fully adopting mechanical driven to make biomass pellets from various biomass materials. With a series of wood pellet making equipment connected together, it can realize continuous and automatic pelletizing with easier operation and higher pellets yield. (Related post: Biomass Pellet Machine Suppliers >>)
The biomass pellet mill factory is able to process a great many of biomass raw materials, such as woods, wood shavings, sawdust, EFB (palm kernel), coconut shell (coconut husk), coconut tree, bagasse, straw, rice husk, coffee husk, grass, etc. it is featured with less land space, cost-saving, wide application range. (See more: GEMCO Pellet Machine Price >>)

Machinery to Setup Commercial Biomass Pellet Plant
How to Set up Wood Pellet Manufacturing Plant
?
The full process of a complete pelletizing plant, from biomass raw material processing to final packing biomass pellet, includes
crushing
,
drying
,
pelletizing
,
cooling
and
packaging
processes. Each process has corresponding equipment. We break down the process into three processes and take a look at what equipment need to buy if you are planning to investing on biomass pellet plant. (
Latest Project Report: 2TPH Wood Pellet Plant Setup in Australia >>
)
Raw Material Pretreatment Process
Wood Chipper: Making large wood like logs, tree limbs and trunks into <3mm thickness and 10-30 mm length wood chips.
Hammer Mill: Crushing the material into powder and making raw materials to the right size (below 3mm) for pelletizing process.
Dryer: In general, the moisture content of raw material is still high after the pulverization from hammer mill, which is not suitable for pelleting. The dryer can make raw material moisture content to from 12% to 18%.
Pellet Mill: Press the mixed raw material into regular shape pellets by high pressure between the main parts roller and die. It is the soul of complete biomass pellet plant. According to the raw material and production needs of customers, choose suitable biomass pellets making machine are very important. (You may also like: Feed Pellet Mill Machine Price >>)
Pellet Cooler: Pellet cooler is used to cooler the biomass wood pellets after pressed by the pellet machine. It is most commonly used in complete pellet plant.
Pellet Packing Machine: It can weigh and pack the cooled pellets automatically. 10-50kg per bag is available to choose.

If you have no ideas about how to establish a complete biomass pellet plant, just contact us to get professional suggestions. We have been in this industry for at least three decades. And we have built many commercial biomass pellet projects around the world. Welcome to visit our factory!
GEMCO Wood Pellet Plants for Sale
Depending on our years of experience, we divide biomass pellet plant into 3 types. And our complete 0.5-10ton/h pelletizing plant (with ring die pellet machine) from chipping to packing is CE certified by SGS. Welcome to contact us to get the latest cost to setup a complete pelletizing plant for business or individual use!
GEMCO Complete Biomass Wood Pellet Mill Factory - Turnkey Project
Buy biomass pellet plant from biomass pellet equipment manufacturer or supplier at factory price, get FREE technical instruction of biomass pellet process and business plan to set up biomass pellet making plant project in The Czech Republic, Guatemala, South Korea, Japan, Thailand, Indonesia, etc., at low cost.
Tips on Building Commercial Biomass Pellet Plant
Biomass energy has been the hot topic around the world, attracting more and more investors. Before starting biomass pellet plant factory, you should make some preparation. Here are some tips:
Market decides if your biomass wood pellet plant can make profits and how much it will make. The first thing before building biomass pellet plant factory plant is to make market research. Such as, how many boilers can be used with pellets, how many people engaged in this industry, and if the local people know about biomass energy etc. (Related article: Wood Pellet Machine Canada >>)
In the biomass energy industry, who can take up the market if he has adequate raw material. Multiple kinds of raw materials can be used in biomass pellet machine factory, like forestry waste, agro residues, living waste, animal waste etc. you should make sure the stable raw material resources. (See more: 5TPH EFB Pellet Mill for Sale)
Building biomass pellet making factory is also important, which had better be close to the raw material resource. And the factory size should be decided in advance according to the scale of biomass pellet plant you want to setup. (Read more: Pelletizer Machine Manufacturers >>)
Get In Touch
We receive enquiries in
English, Español (Spanish), Русский язык (Russian), Français (French) and العربية (Arabic)
. Our professional team will reply to you within one business day. Please feel FREE to contact us!