1TPH Small Poultry Feed Production Line to Chile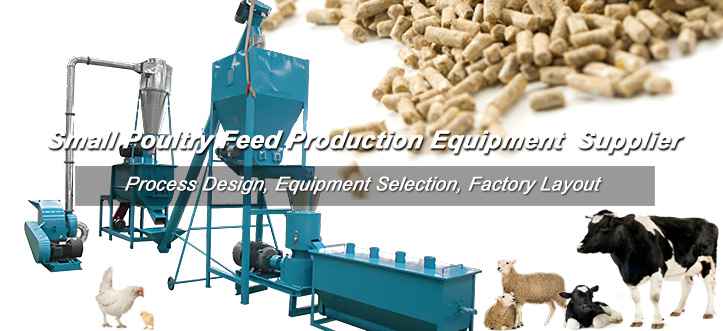 Small Poultry Feed Pellet Production Line
In January 2019, our client in Chile brought the STLP400 small poultry feed production line from us. He brought it to make feed pellets for his own poultry farms. It is mainly used to make chicken feed pellets to lower poultry feed manufacturing plant cost. For the detailed equipment configuration and price list, please contact us directly, we are happy to provide it for your reference!

1TPH Small Poultry Feed Pellet Production Line Exported to Chile
Raw Materials: grass, corn, soybeans, other grains, and nutrients, like vitamins, etc..
Diameter of Final Feed Pellets: 2.5/3mm/4mm
Equipment List: grass grinder, mixer, screw conveyor, temporary storage silo, feed pelllet machine, cooler, and finished feed bin, etc.
Above are some pictures that taken at our factory. Our engineers and workers will check and inspect every set of equipment included in the whole poultry feed pellet production line to ensure there are no quality problems before delivery and carefully packed every set of equipment to avoid damages during the delivery. If you have your own poultry farm or want to start animal feed pellet making business, our STLP series poultry feed manufacturing plant is definitely a great choice due to its low cost, full functions, and easy operation. (Read more: Poultry Feed Mill>>)
If you are interested in our equipment, please contact us directly, our sales or engineers can take you to visit our equipment through mobile video. Any questions, please don't hesitate to contact us!

Small Poultry Feed Pellet Production Process

Feed Pellet Plant Production Flow Chart
Weigh a batch of grain materials (500-1000 kg per batch).
Put the materials to be crushed into the feed grinder through the screw elevator, and then the hammer mill can crush them into particles.
Gradually add other powders and additives to the feed mixer through the screw conveyor, and finally mix with the particles. After a few minutes, stop the feed mixer, vent the gas, and open the manual exhaust valve.
After all the materials are well mixed, it flows into the feed pellet mill machine. The feeder can control the feeding speed to prevent clogging. After the feed pellets are produced, they have a high temperature of about 60-80 °, which is cooled by a cooling machine and finally packaged.
STLP Small Feed Pellet Mill Plant for Sales


SLTP300/400 Feed Pellet Equipment
| Model | Power | Capacity (kg/h) | Weight (kg) | Dimension (mm) |
| --- | --- | --- | --- | --- |
| STLP300 Small Pellet Mill Plant | 45.7 kw | 600-800 kg/h | 2464 kg | 15000*4000*4500 mm |
| STLP400 Small Pellet Mill Plant | 61.2 kw | 800-1000 kg/h | 2902 kg | 15000*4000*4500 mm |
Our STLP series animal feed pellet production line has been the No.1 choice for many small to medium scale farm or animal feed pellet production company. As the reliable poultry feed pellet making machine manufacturers, we can guarantee it is our best selling animal feed pellet making machine and many advantages, including:
Compact structure: A flat sequence structure is to ensure continuous feed pellet processing and suitable height.
Reasonable technology: Do not add extra machines. All the key equipments are closely connected to ensure high efficiency.
Convenient installation and commissioning: All machines are packed and shipped, we can provide installation and commissioning services.
Simple operation: The operation of the electric control cabinet, starts the buttons of each machine step by step.
Low cost and high capacity: Buyers can obtain 2000-3000 tons of feed pellets every year.
Wide uses: It can be used to make various animal feed pellets such as chicken feed, duck feed, cattle/dairy feed, goat/sheep feed, fish feed, rabbit feed, pig feed, etc.
STLP400 Small Poultry Feed Pellet Production Line
We can provide full-course and turn-key services according your specific requirements and investment budgets. Our
poultry feed machine price
is most favorable in the market.
If you have any needs, don't hesitate, please contact us!
Poultry Industry and Poultry Feed Pellet Business Oportunity in Chile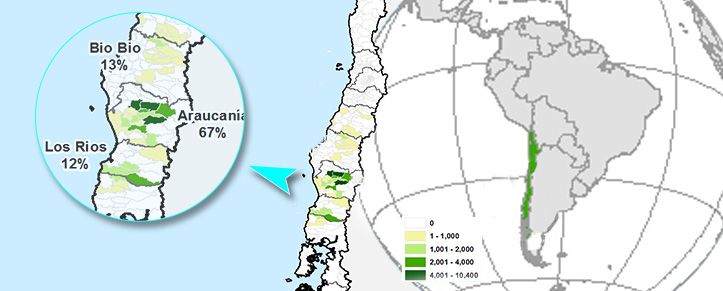 Map of Poultry Production In Chile
The poultry industry is considered as Chile's leading meat producer. In the year 2009, it occupied the 45.5% of the total production of meat in the country. That is why the poultry industry supplies the most significant animal protein source in Chile. The consumption of poultry meat reached its peak when it was stable at around 33kg per capita; But due to the economic crisis in 2009, it dropped to 31.9kg. Nevertheless, Chile's poultry industry was still very huge in that same year. It is deeply concentrated in the locality and the number of producers. The neighboring regions of Libertador Bernardo O'Higgins, Metropolitana, and Valparaiso housed 96.4% of the poultry meat production. (Read more: Chicken Feed Pellet Machine to Australia >>)
Coquimbo y Valparaiso produced 76% of turkeys, Libertador Bernardo O'Higgins produced 58% of broilers, and Metropolitana produced 38% of broilers and 21% of turkeys. Broilers were the most produced in 2009 as it covered 84% in the total poultry production; turkeys were 15%; about 1% were from chickens. In 2007, a processing plant located in San Vicente went up in flames, causing a decrease in broiler production. H1N1 avian influenza broke out in two commercial breeding flocks, which caused the production of turkeys to also drop in 2009. High production standards are set by big corporations that are prevailing in the market. The product traceability is high because these dominant companies take control of the whole production process, from breeding to the distribution. (Read more: Portable Poultry Feed Pellet Machine to Nigeria >>)
The United States, Brazil, and Argentina are the countries where the imported frozen poultry products of Chile come from. Therefore, there has great opportunity to start poultry feed production business in Chile. We can provide small scale, medium scale and large scale animal feed pellet mill plant based on customized plan. We can provide factory layout design, equipment selection, manufacturing, installation and commissioning. We have set up many animal feed pellet projects in many countries, like Phlippines, Uzbekistan, Ghana, India, Fuji, Russia, Zambia, Lithuania and more. If you are interested in, please contact us to get the project report for your reference.
Get In Touch
We receive enquiries in
English, Español (Spanish), Русский язык (Russian), Français (French) and العربية (Arabic)
. Our professional team will reply to you within one business day. Please feel FREE to contact us!