Electric Pellet Mill
Because of the relatively small capacity, small pellet machines usually are used for home, small farm or small plants and workshops. The pellets made by small pellet makinig machine can be used forhome heating, cooking, horse bedding, cat litter, and so on. The most popular and widely used small pellet mill is electric pellet mill since it has many advantages, including:


Biomass Pellets Made by Small Pellet Mills
They are easy to operate and maintain
They are movable, so you can use it wherever you want
They are economical to people because of their low price. you only need to invest a small sum of money in the small pellet mill
They are environmental friendly. You do not need to worry about pollution.
Electric Small Pellet Mill Machine Introduction
The small pellet making machine basically belongs to flat die pellet mill based on its structure and working principle. There are 2 types of electric pellet mill: R-type and D-type. Below is the detailed introduction of electric small pellet mill machine. (Other Equipment: Diesel Pellet Mill >>)


Small Pellet Machine for Sale
GEMCO pellet mill has been well recognized by professionals in biomass industry. Our small pellet mill driven by electricity can be used to produce high quality biomass pellets for home use, mini pellet mill plant, wood pellet production line and so on. The small pellet machine price provided by GEMCO is the best price on the market. Any questions, please contact us!
R-type Small Pellet Mill for Sales
Click the Pictures to See Large Files

Roller & Die of R-type Small Pellet Mill
R-type Small Electric Pellet Mill Machine Technical Data
| Model Number | Power(kw) | Output(kg/h) | N.W./G.W.(kg) | Package Size(mm) |
| --- | --- | --- | --- | --- |
| ZLSP200B R-type | 3phase, 7.5 | 80-120 | 215/245 | 950*450*1050 |
| ZLSP300B R-type | 3phase, 22 | 250-350 | 540/575 | 1350*750*1400 |
| ZLSP400B R-type | 3phase, 30 | 350-450 | 770/810 | 1400*800*1450 |
| ZLSP550B R-type | 3phase, 55 | 500-800 | 1770 | 2300*750*1850 |
R-type small pellet mill features:
Rotating roller pellet mill has a stationary die with a rotating roller shaft so that the rollers spin to force the feedstock through the holes of the die. Then raw material sawdust is then condensed into wood pellets.
It is more suitable for processing hardwood as Cypress, Elm tree, Hickory, Oak, Lignumvitae, Birch, etc.
The wood pellets made by R-type pellet mill can be as long as 3cm.
The service life of rotating roller is longer than traditional design: can reach 2000 hours.
The electric components utilize famous brands CHINT and SIEMENS
It also has diesel type.
Small Electric Pellet Mill Machine to Make High Quality Biomass Pellets for Your Own Use
Small Pellet Mill - Buy High Quality Small Pellet Mill for Biomass Pellet Making: HOT Sale small pellet mill offered by home pellet mill manufacturer or supplier, Guide on process of biomass pellet production and How to start biomass pellet production business with limited cost in Tanzania, Egypt, Morocco, Ghana,South Korea, etc.
D-type Small Pellet Machine at Factory Price
D-type Small Electric Pellet Machine Technical Data
| Model Number | Power(kw) | Output(kg/h) | N.W./G.W.(kg) | Package Size(mm) |
| --- | --- | --- | --- | --- |
| ZLSP150B | 3phase, 5.5 | 50-100 | 95/100 | 800*450*700 |
| ZLSP200B | 3phase, 7.5 | 80-120 | 200/230 | 1050*480*930 |
| ZLSP230B | 3phase, 11 | 120-200 | 290/320 | 1180*540*1000 |
| ZLSP260B | 3phase, 15 | 160-250 | 320/360 | 1240*540*950 |
| ZLSP300B | 3phase, 22 | 250-400 | 350/380 | 1300*560*1100 |
D-type Small Electric Pellet Mill Machine with CE Motor Technical Data
| Model Number | Power(kw) | Output(kg/h) | N.W./G.W.(kg) | Package Size(mm) |
| --- | --- | --- | --- | --- |
| ZLSP150C | 3phase, 5.5 | 60-110 | 105/125 | 1000*480*780 |
| ZLSP200C | 3phase, 7.5 | 80-120 | 210/230 | 1050*550*830 |
| ZLSP230C | 3phase, 11 | 120-200 | 290/320 | 1200*560*950 |
| ZLSP260C | 3phase, 15 | 160-250 | 340/370 | 1240*580*1000 |
| ZLSP300C | 3phase, 22 | 250-400 | 425/465 | 1300*620*1100 |
D-type small pellet mill features:
Different from R-type, D-type flat die pellet mill has a stationary roller and a rotating die.
It is more suitable for processing sawdust. Also ideal for making pellets from straw, peanut shell, stalk, crop waste, pine wood, hops, alfalfa, grass, bamboo waste, bagasse, etc.
The roller and die (also called plate or disk) of small pellet mill adopts high wear-resisting alloy steel and treated by special heat treatment to have high hardness and long lifespan. (It is recommended to replace both the roller and die at the same time if the original ones wear.)
The size of flat die holes (which is also the diameter of wood pellets) can be customized according to your own raw material and special requirement. We have obtained the best compression ratio for more than 30 kinds of raw materials. If you have special raw material, you can also send to us and we can make FREE test for you.
We also apply Current-to-Voltage Converters to meet your native voltage and frequency (different countries may have different voltage and frequency), so that the machines can work smoothly in your country.
The driving gear is made of superior alloy steel. It embraces the advantages of steady transmission, low noise, excellent loading capacity, slow temperature rise, long service life and good pressure tolerance.
D-type home pellet mills are relatively cheaper compared to R-type. For economical reason, you can choose this one.

Whether to choose the R-type or D-type electric flat die pellet mill depends on your specific raw material and special demands. You can contact us now to get professional advice!

How to Choose the Right Small Pellet Mill for Your Own Use
Buying the right small pellet mill is a very crucial step in any pellet production business. If you buy a small pellet mill without verifying the authenticity of pellet mill manufacturers, checking the quality of the machine, etc. then chances are you might face loss. There are certain things that you must know before making a purchase. To assist you in this whole process we have mentioned some important factors that you must consider before buying a small pellet mill for your own use.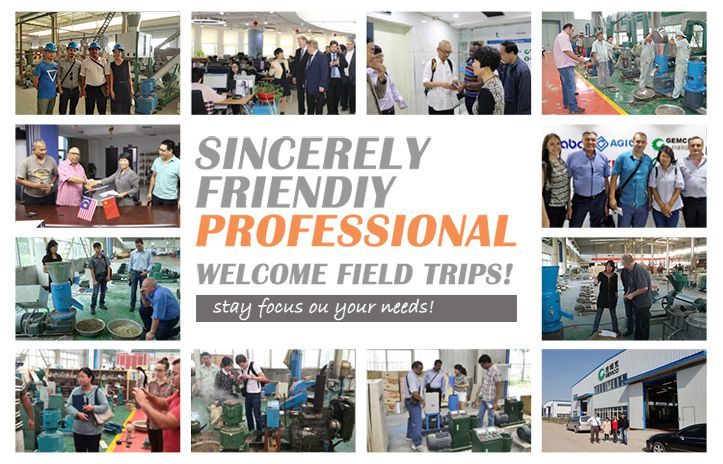 Before buying anything in life, one must be aware of the purpose of its use. So, the same rule applies to buy a small or mini pellet mill. First, determine the purpose like which kind of pellets you want to make? For how long you want to use a small pellet mill? All these questions will help you find the right mill according to your needs and budget.
How Much Quantity of Pellets do You Want to Produce?
The second important thing that you must consider before buying a small pellet mill is the capacity of pellets you need. If all depends on for what purpose you are going to use the pellets. If you don't need a large number of pellets then a small pellet mill would be the right choice for you. If will save you a lot of electricity and budget as well.
Which Raw Materials are You Going to Use?
Small pellet mills are designed by keeping in mind the raw material that is going to be used for the manufacture of pellets. Different raw materials have different characteristics (rigidity, form, etc.), so small pellet mills are designed according to different features of these raw materials. For instance, a machine used for a softer raw material cannot be used for a harder raw material. So before picking a small pellet mill, select the type of raw material that you want to use. So that you don't end up buying a wrong machine that does not even meet your needs.
Is the Manufacturing Company Reputable?
As there are many manufacturers selling small pellet mills in the market, you must be able to choose right from the wrong. If a company is providing durable and high-quality small pellet mills then it will definitely have a good reputation in the market and customers must be recommending that company to others.
You may want to buy a machine but when you check its price you move away saying it's too costly for you to buy. It happens oftentimes. Different companies have different prices depending on how reputable their name is in the market. So before buying a machine make sure that it suits your budget.
So, take the decision wisely, try not to compromise quality over quantity. Remember that a low-quality machine that has a low budget might not work efficiently and you end up investing in it more to maintain its functioning.
Get In Touch
We receive enquiries in
English, Español (Spanish), Русский язык (Russian), Français (French) and العربية (Arabic)
. Our professional team will reply to you within one business day. Please feel FREE to contact us!