Manure Drying Machine
Chicken manure, containing Nitrogen (1.63%), Phosphorus (P2O5 – 1.54%) and Potassium (K2O – 0.85%), is a kind of high quality organic fertilizer. However, chicken manure also contains parasites and some infectious bacteria, so it should be fermented or composted before using it as fertilizer. (Read more: How to Make Fertilizer from Cow Dung?)


Small Dewatering Machine for Sale
And the high water content (about 80%~90%) in chicken manure makes it difficult to manage manure into fertilizer and the cost would be higher. To lower the cost and improve the efficiency, the first step to convert fresh chicken manure into organic fertilizer is manure drying, it is also known as manure dewatering or separation process. (Related post: Chicken Manure Pellet Machine for Sale >>)
Small Chicken Manure Drying Machine for Sale
In order to better deal with chicken manure, cow/horse dung in poultry farm or livestock farm, we offer small manure drying machine to help farmers process the animal manure in a cost-effective way by separating water from manure easily. After drying, the poultry or livestock manure can be made into solid or liquid organic fertilizer. Small manure drying unit can greatly reduce the cost of transportation and further drying.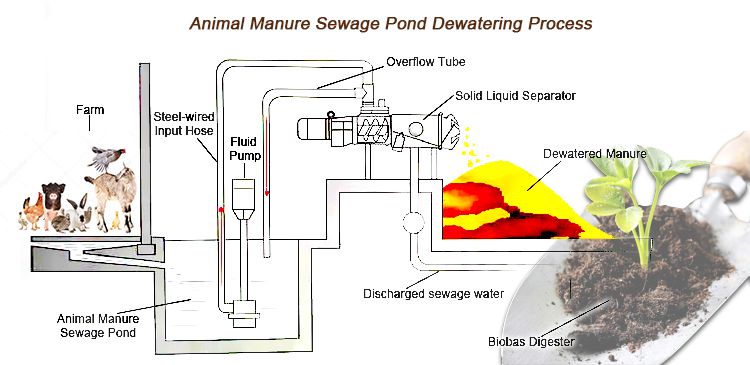 Small Manure Drying Machine
It is main composed of screen, screw rod, reducer, pump, machine body, etc.
This portable manure dewatering unit is designed for easy operation, less consumption and compact size. For poultry farm or livestock farm, there would have abundant animal manure need to be process, like hog manure, cow dung, horse dung, chicken manure, etc., this small manure drying equipment is just for this. If you have any questions about its price, shipping cost, technical data, working principles, etc. just contact us without hesitation, we are always here for your needs!
Small Manure Drying Machine for Sale - Technical Parameters
Model
Capacity
Power
Overall Dimension
Main Motor
Water Pump
CQ-180
5~8 m³/h4
4 kw
3 kw
1800*600*1300 mm
CQ-200
10~12 m³/h
5.5 kw
3 kw
1900*600*1300 mm
CQ-300
18~20 m³/h
7.5 kw
4 kw
2200*800*1400 mm
CQ-400
25~35 m³/h
11 kw
4 kw
2500*1000*1600 mm

Wide Application of Manure Drying Machine
The solid manure after dehydration is great materials to make fish feed or organic fertilizer. (Read more: Fish Feed Pellet Machine Price >>)
This drying machine can also be used to separate waste residues and water of distiller's grains, beer's grains, starch residue, paper pulp, fiber fragments, fruit residue, cocoa residue, coffee residue, sauce residue, as well as the residue and liquid separation of high concentration organic sewage in slaughterhouses, etc.
Why Should Buy Our Manure Drying Machine for Your Farm?

Chicken Manure Drying Equipment
Adjustable Dehydration: the water content of animal manure is about 50%~60%. The amount of slag and water content can be adjusted based on actual needs.
High Efficient Dewatering: it features large capacity, low power consumption and continuous operation and it can greatly improve chicken manure dewatering efficiency.
Strong Decontamination Capacity: after dewatering treatment, the solid rate of feces and urine, chemical oxygen consumption, total oxygen consumption, and the removal rate of nitrogen and phosphorus can reach 70%~95%.
Long-term Service Life: this manure drying machine is durable since its main parts (like machine base, screen frame, screen, etc.) are made of stainless steel and anti-corrosion treated material for high strength, corrosion resistance and long service life.
Easy Operation and Maintenances: fast separation speed, no blockage performance and automatic design make it very easy to use or maintain it.
Portable Design: although its weight is about half a ton, it is equipped with wheels for easy movement.
Small Manure Drying Machine - The Most Profitable Management of Poultry Manure!
How to turn manure waster into wealth? – factory price manure drying machine for poultry waste management: buy portable manure drying machine from manure processing equipment manufacturer or supplier at factory price, get technical instruction of manure dewatering process and business plan to set up manure dewatering project in Philippines, Uzbekistan, Lithuania, Nigeria, Tanzania, etc., at low cost.
Benefits to Make Poultry Manure into Organic Fertilizer
For many poultry farmers, how to deal with these waste poultry manure has been a headache, never say to make money from it. Now, the portable manure dewatering machine make it possible to better manage poultry manure. After dehydration, chicken manure can be made into organic fertilizer for sales to increase the income of poultry farms. (Read more: Poultry Feed Manufacturing Plant Cost >>)


Chicken Manure Organic Fertilizer
The dried manure after dehydration treatment is almost odorless. It has low viscosity and can be used as base fertilizer and top dressing. It has long fertilizer effect and stable fertility. It replenishes the nitrogen, phosphorus, potassium and trace elements in the soil, enriches the soil organic matter, and overcomes the shortcomings of frequent application of chemical fertilizers to harden soil salt, play a role in improving the soil. Practices have proved that under the same growth conditions, it is more effective than other fertilizers and has a significant yield increase effect on various crops.


How to Make Organic Fertilizer from Manure
High nutrient concentration in the dried manure make it easy for decomposing, fast absorption, and long duration. It is a thermal fertilizer that promotes the development of crop root systems, enhances crop photosynthesis, and increases the sweetness and beauty of crops, and increases production and income.
Chicken Manure Nutrition
| Nutrition | Crude Protein | Fat | Ash | Carbohydrate | Fiber | Nitrogen | Phosphorus | Potassium |
| --- | --- | --- | --- | --- | --- | --- | --- | --- |
| Rate | 18.7% | 2.5% | 13% | 11% | 7% | 2.34% | 2.32% | 0.83% |
Things about Chicken Manure for Organic Fertilizer
The content of organic matter and NPK in chicken manure was affected by laying rate.
The higher laying rate, the lower contents of organic matter and nitrogen, phosphorus and potassium in feces.
The lower laying rate, the higher contents of organic matter and nitrogen, phosphorus and potassium in feces
Get In Touch
We receive enquiries in
English, Español (Spanish), Русский язык (Russian), Français (French) and العربية (Arabic)
. Our professional team will reply to you within one business day. Please feel FREE to contact us!