Mobile Feed Pellet Plant
The
STLP400 small mobile feed pellet plant
is a complete feed processing production line developed by GEMCO company for domestic and foreign livestock and poultry farmers, farmers, rural cooperatives and feed manufacturers, able to meet the complete formula feed and grass feed for chicken, livestock, cattle, sheep and other animals production.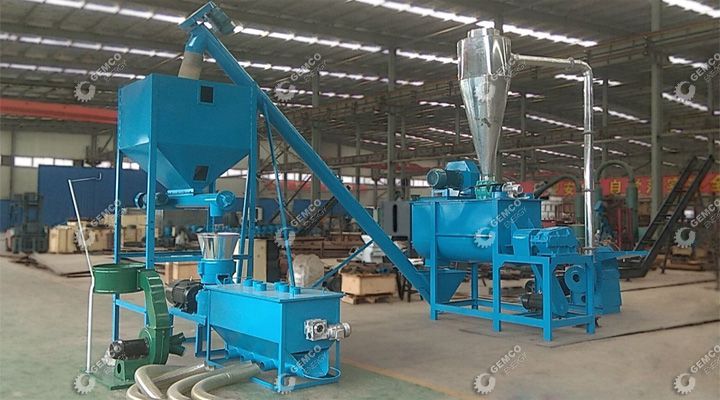 The complete small mobile feed pellet production line includes crushing, mixing, granulating, cooling, screening and packaging and conveying equipment.
The process flow is complete and reasonable, and the adaptability is strong, which can meet the needs of different users. This product is suitable for processing feed into high-density granules. The feed granules are used for raising livestock and poultry for storage and transportation.
Main Parameter of STLP400 Small Feed Pellet Plant
STLP400 Small Feed Pellet Plant
Production capacity(kg/h)
Polluting range (mm)
Pellet density(t/m3)
Total power(kw)
Working dimension(mm)
Pellet Machine Type
800-1000
Diameter: 2.5-6
0.6-1.2
41.31
1960×3500×3500
flat die
Note: The yield was measured using 6 mm die holes in raw materials of 65% corn, 20% oil cake, rice bran or bran 15%.
Anyang GEMCO Energy Machinery Co., Ltd. is mainly engaged in the production of feed machinery and biomass molding machinery like: wood pellet mill and sawdust briquette machine. GEMCO has strong technical research and development strength, advanced manufacturing equipment and perfect after-sales service. Our company has passed ISO9001 and CE certification, and its products are sold well in more than 100 countries and regions, getting high praise from the customers.
Poultry Feed Machine Technical Process

(Process Procedure)
STLP400 type feed complete production plant crushes the materials into powder, which is conveyed by the cyclone and air seal machine into the mixer, for the power which has no need to crushing can be directly sent to the mixer through the screw conveyor. Kinds of materials are mixed completely in the mixer by the double ribbon, and then lifted by the screw lifter to the silo; the material in the silo is placed to the pellet machine by the adjustable speed feeder. The finished pellet cooled and cooled by the cooling sifter and the powder is filtered and then passed through the belt conveyor into the packaging machine. Install the set weight for metering bagging and bag sealing to complete the entire production process.
FSC500 Crusher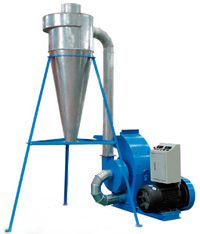 FSC500 type crusher, in combination with vertical mixing machine or horizontal mixing machine, used for crushing corn, soybean etc. widely suitable for small scale feed factory, animal farm etc.
This unit is featured with compact layout, advanced performance, small covering area, low electricity consumption, easy operation and repair, low noise and low pollution of dust.
FSC500 Crusher for Pellet Line
Production capacity(kg/h)
power(kw)
Crusher Diameter(mm)
Hammer qty(pc)
Overall dimension(mm)
1000-1200
22
500
24
900×1000×1200
LS Series Screw Conveyor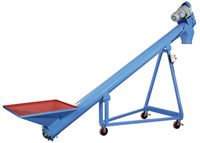 The LS series screw conveyor consists of a feed hopper, a spiral blade, a motor reducer and a discharge port. Continuous conveying equipment that uses spiral rotation to move materials, this screw conveyor is suitable for conveying loose materials such as flour, grain, wood chips, cement, fertilizer, ash, sand, gravel, coal powder.
| No. | Type | Power (kw) | Conveying Capacity (t/h) | Overall Dimension (mm) |
| --- | --- | --- | --- | --- |
| 1 | LS220*3.5 | 3 | 2-4 | 3500×500×300 |
| 2 | LS220*6 | 4 | 2-4 | 5900×500×300 |
TGFZ250 Airlock
The airlock is composed of an impeller, a casing, a motor reducer, etc., and is used for closed air transportation of powder and granular materials.
| Feeding Yield(t/h) | Power(kw) | Overall Dimension(mm) |
| --- | --- | --- |
| 2-4 | 0.75 | 810×295×395 |
9HWP500 Mixer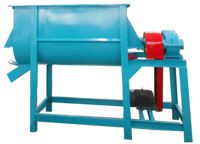 The 9HWP500 mixer is mainly composed of a motor, a reducer, a casing, a rotor and a discharge port, widely used in feed processing plants and farms as combined feed units and kinds of feed raw materials mixed according to the scale. The machine has the characteristics of simple structure, convenient maintenance, safety and reliability, high mixing uniformity, short mixing time and small residual amount.
9HWP500 Mixer Machine
Production Capacity()
Power(kw)
Mixing Time Foe Each batch(min)
Overall Dimension(mm)
500
7.5
8-10
2940×920×2100
Silo and Feeder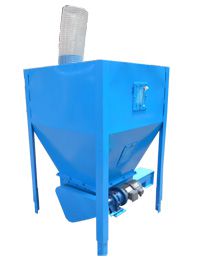 The silo can store a batch of materials in the mixer to ensure continuous production of the entire production line. The silo is equipped with venting holes and venting bags to reduce dust spillage.
The feeder adopts the structure of the motor reducer, and the operation is stable. The feeder uses the frequency conversion speed regulation, which can accurately control the feeding amount of the pellet machine to ensure the smooth running of the pellet machine.
Silo and Feeder
Production Capacity(m³)
Feeder motor power
Feeding speed(kg/h)
Overall Dimension(mm)
1.5
0.75
100-1500
1800×1250×3350
ZLSG400 Fate Die Pellet Machine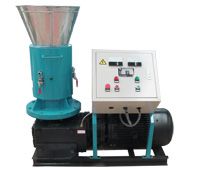 ZLSG400 pellet machine
consists of an inlet and outlet hopper, a press roll, a die plate, a coupling and a motor, used for producing dense feed pellets by pressing the feed material through a press roll and a die plate.
ZLSG400 Fate Die Pellet Machine
Production Capacity(kg/h)
Power(kw)
Pelleting hole specification (mm)
Overall Dimension(mm)
800-1000
30
2.5、3、4、5、6、8
1600×640×1300
LQSF70 Cooling Screen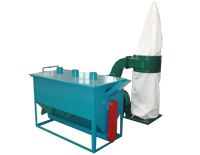 The LQSF70 Cooling Screener is a special equipment for cooling and sorting particles, suitable for screening the kinds of feed, wood pellets etc, with the features of high screening efficiency, low noise, low dust emission, long service life, simple maintenance and simple operation etc.
LQSF70 Drum Screening Machine
Production capacity (kg/h)
Power (kw)
Net/rough weight (kg)
Overall dimension (mm)
400-600
0.75
200/245
1980*680*952
Bag –type dust collector is mainly used for the collection of debris and dust, collecting the broken dust and fines into the bag, reducing the dust density of the air, ensuring the working environment is celan.
LQSF70 Bag-Type Dust Collector
Motor power (kw)
Rotary speed (r/min)
Sound (MMH20)
Flow (m/h)
Filtering Area (㎡)
Net/rough weight (kg)
Overall dimension (mm)
2.2×2
2900
130
2280
4.2×2
100/135
1050*650*1150
QB380 Belt Conveyor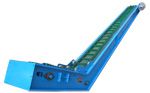 QB380 belt conveyor is used for conveying the finished pellets, adopting the belt with ribs and skirt, outputting with big dip, with large conveying quantity, covering a small area.
Belt Conveyor
Power (Kw)
Conveying capacity (t/h)
Overall dimension (mm)
2.2
2
5900×700×700
BZD50W Feed Pellet Packer
BZD50W packaging machine
includes hopper, packaging machine, belt conveyor and sealing machine, etc. It is used for quantitative packaging of granular materials in feed, grain, fertilizer, rice, seed, chemical, food and other industries.
BZD50W Feed Pellet Packer Machine
Total power(Kw)
Packing specification (kg/per bag)
Packing speed (bag/h)
Packing accuracy
Overall dimension (not including conveying and sealing machine) (mm)
1
0-50
180-220
≤±0.2%
1000*1000*3500
Electric Control System
The electrical control of this small feed pellet plant is advanced and reliable. Each machine is all single-machine single control. When controlling the machine singly, the order should be used for starting: mixer--- air lock machine ---crusher---conveyor---belt machine---cooling screen---pellet machine---material feeding machine---packing machine.
GEMCO has been devoted in feed and wood pellet industry since 1997, already designing and building over 100 pellet production lines. This small scale feed pellet plant is designed for the users who has small production requirement.

GEMCO has the ability to customize the your own pellet production plant based on your requirement and actual condition.
Get In Touch
We receive enquiries in
English, Español (Spanish), Русский язык (Russian), Français (French) and العربية (Arabic)
. Our professional team will reply to you within one business day. Please feel FREE to contact us!