Aerobic Organic Fertilizer Manure Fermentation Machine
Chicken Manure Fertilizer Fermentation Machine – High Temperature and Aerobic
The manure fermentation equipment developed by Gemco Energy adopts totally closed design, the manure fermentation process is not affected by the natural environment, so that the organic fertilizer production meets the industrial production standards, prevents the waste gas generated by the fermentation from leaking, and eliminates secondary pollution. It is very suitable for middle or large scale poultry or livestock farm, or organic fertilizer manure making business. (Read more: Small Feed Pellet Machine Price >>)
Chicken Organic Fertilizer Manure Fermentation Equipment Design
The whole tank of manure fermentation tank has three parts: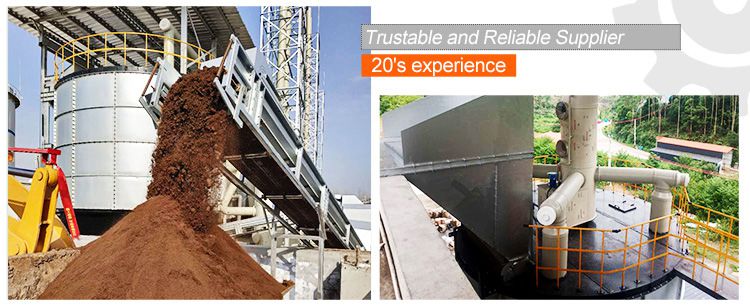 Buy Chicken Organic Fertilizer Manure Fermentation Unit
The lower base is composed of hydraulic station, scroll air pump, oil cylinder, heating system and stirring shaft.
The middle part is composed of a double-layer heat-insulating tank, automatic equipment control system, and export device. The inner wall of the tank is lined with 304 stainless steel plate, which effectively prolongs the life of the tank and reduces the residual clinker. There is an insulation layer filled with polyurethane foaming agent in the middle, and the outer wall is made of thick steel plate to support the tank.
The upper part is composed of shelters, detection platforms and exhaust installations.
The ancillary equipment includes automatic tipping bucket elevator, exhaust gas filtering and deodorizing system and heat exchange system device.
Aerobic Manure Fermentation Tank Technical Parameters
Item
Input Capacity
Output Capacity
Space
Installed Power
Power Source
Manure Fermentation Tank
8~15 m³/day
(moisture: 50~705)
4~5 m³/day
(moisture: 30%)
45m² (Minimal)
40.9 kw
380V50Hz

Cost of Investing on Organic Fertilizer Chicken Manure Business
People who are interested in investing chicken manure fertilizer business will have many questions about this new type manure fermentation equipment, like how much it would cost, what's the profit of per day organic manure fertilizer, and other more questions. (Related Equipment: Ring Die Feed Pellet Mill >>)


Setup Chicken Manure Fertilizer Making Plant
Actually, the detailed investment cost will be affected by many factors. So if you have plan to start organic fertilizer business from chicken manure. We can offer the customized plan, installation and commissioning service, and free training and technical guidance!
Application of Fermentation Tank
This new type of fermentation equipment has wide application in agriculture and industry. It can process various wastes, including:
Animal Manure: chicken manure, pig manure, horse dung, cow dung, rabbit manure, etc.
Livestock Carcasses: chicken, cattle, sheep, horses, rabbits, pigs and other animal carcasses.
Domestic Waste: kitchen wastes.
Industrial Waste: grains, vinegar grains, cassava residues, sugar residues, furfural residues, etc.
Urban Sludge: river sludge, sewage sludge and other urban sludge.
Crop Waste: straw, soybean meal, etc.
Other Waste Residue: mushroom residue, traditional Chinese medicine residue, etc.
Animal husbandry pollution mostly refers to the manure produced by livestock and poultry during the livestock husbandry process, but a small part also refers to the residues of toxic and hazardous substances contained in livestock products and other wastes. But the main source of pollution in animal husbandry is pollution from livestock and poultry breeding. The most suitable way to deal with livestock and poultry pollution is to use organic fertilizer equipment to make organic fertilizer, which not only reduces air pollution, but also alleviates the status of soil.


Animal Manure Organic Fertilizer
Whether it is pig manure, cow manure, sheep manure, or chicken manure, it needs to be fermented and decomposed before application. Because the fermentation process is a decay process, if it is not fermented and buried directly in the soil, the soil cannot grow plants for a long time. Because they rot, the roots of the plants will rot and the plants will die. Therefore, manure fermentation is essential to make organic fertilizer from chicken manure. And, manure fermentation machine and organic fertilizer pellet machine are the most commonly used equipment for chicken manure fertilizer processing. (Read more: Poultry Feed Manufacturing Plant Cost >>)
Can chicken manure be directly loaded into the tank for fermentation?

No, chicken manure has high moisture content, it can't be loaded into the chicken manure fertilizer fermentation machine. The best way is to add it with auxiliary materials or fermented organic fertilizer to neutralize the water to 65% before putting it into the manure fermentation machine.

How much manure can this fermentation tank can process every day?

Basically, it can process about 12 cubic meters of manure (moisture content is lower than 70%)

What is the capacity of your organic fertilizer fermentation machine?
The output is determined based on the amount of materials, and it has a certain relationship with the amount of moisture in manure material. Generally, the output ratio of materials with a moisture content of 65% is 3:1. 3 cubic materials produce 1 cubic finished product.
Get In Touch
We receive enquiries in
English, Español (Spanish), Русский язык (Russian), Français (French) and العربية (Arabic)
. Our professional team will reply to you within one business day. Please feel FREE to contact us!